Mid-America regional assembly
October 6, 2022
@
10:00 am
–
October 8, 2022
@
2:30 pm
EDT
CHRIST'S LOVE: WITHIN US, AMONG US, AROUND US
New Church Ministry is very excited about Rev. Dr. Jose Martinez, interim Minister of New Church Strategies, being able to travel this fall to the Christian Church of Mid-America (Disciples of Christ)'s Regional Assembly. We hope you'll join him for three days of wonderful activity. Can't be there the whole time? The region offers registration options for portions of the event. There's even a virtual option that brings the Assembly to you. Learn more about the assembly below.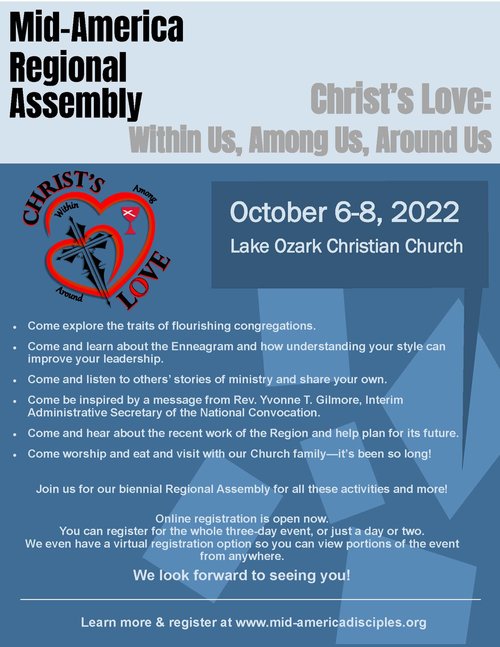 On Thursday participants will have their choice between two educational and inspirational seminars:
Christ Within Us: Finding Your Spiritual Leadership Flow Using the Enneagram. Presenter: Frank Broyes. Each participant will receive a personal assessment.
Christ Among Us: Congregations Flourishing Conference. Presenters are seven of the Mid-America clergy speaking on: Pray, Spirit, Release, Re-Calibrate, Transfigure, Nourish, & Flourish.
Then Thursday evening is the 'People of the Cloth' Radio Hour. This will be a fun evening of heart-sharing storytelling, music, and dessert in the chapel.
Friday's activity includes Bible study led by one of the new Associate Regional Ministers, a dialogue sermon by Regional Ministers Paul Koch and Ron Routledge, your choice of lunch group, and your choice of workshops. Participants are responsible for their own dinner and their choices include a Celebration Sunset Dinner Lake Cruise.
On Saturday there is another brief Bible study by one of the new Associate Regional Ministers and a message from the guest speaker Rev. Yvonne T. Gilmore, Interim Administrative Secretary of the National Convocation and Associate General Minister & President. The business session will include the treasurer's and other reports, and the election/installation of new Regional Board and Commission on the Order of Ministry members. Then it's the participants' choice of lunch group and a final worship with communion.
The Christian Church of Mid-America (Disciples of Christ)
314.462.0932
ccmacomm@yahoo.com